Software and Product Development
Managing website cookies? Make it a breeze with our Privacy Policy generator & Google Tag Manager
The European General Data Protection Regulation (EU GDPR – full text here) places a legal obligation on website owners to manage their visitors' data in compliance with the legislation and, therefore, only after the explicit acceptance by users of the conditions and purpose of use to which the data will be put.
The famous cookies, which have been generating pop-up messages on our screens for some years now are no exception.
In January 2022, the new guidelines of the Authority for the Protection of Personal Data on cookies and tracking tools came into effect. This has changed how website owners manage the collection of consent and the installation of cookies by interested parties.
One of the most pressing technical challenges in cookie management is how to prevent websites from installing cookies on visitors' devices without prior consent. This entails drawing up ad hoc scripts and introducing features that enable visitors to revoke any consent previously given and remind them of the types of cookies they have accepted.
Balancing the communication and advertising needs of online businesses in full respect of the law and the requirements of the various privacy guarantors of the Countries of the European Community is not always instantaneous or straightforward.
Our solution
To help our customers comply with the requirements of the new legislation, we have developed a tool to simplify the management of analytical cookies (Google Analytics, Matomo, etc.) and advertising (Google Ads, Facebook Ads, etc.) through the native support of the Consent Mode offered by Google Tag Manager.

Thanks to our "Privacy Policy Generator and Maintainer" (PPGM) tool, visitors to our customers' websites are informed about the purpose of use of cookies and are able to make an informed choice to accept, reject or granularly select the categories to be approved (technical, statistical, advertising cookies).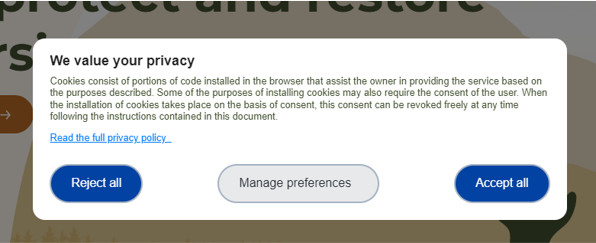 These preferences can be changed effortlessly at any time by visitors or even withdrawn entirely, while website managers can painlessly keep a register of the consents expressed, in full compliance with the provisions of the law.
The way forward
The technical solutions to allow you to optimise your online investments are constantly evolving, as are the rights of your visitors and your needs to be compliant with the law.
Are you looking for an agency that can help you navigate the legal requirements and technical solutions for your digital marketing?
Fill out the form below and tell us your needs, we will be happy to assist you!