Supporting a sustainable Low-Earth Orbit economy
Developing a digital one-stop shop for the promotion of the commercial use of human spaceflight and robotic exploration.
Scroll down
COMMpla was selected in 2021 by ESA European Space Research and Technology Centre (ESTEC), to support them in the design, development and roll-out of the digital home of the ESA Business in Space Growth Network (BSGN).
BSGN is an initiative of the European Space Agency (ESA), promoting the development of a market for the commercial use of human-tended platforms in Low Earth Orbit (LEO), thereby contributing to the emergence of and transition towards a sustainable LEO and Lunar economy.
The project, started in February 2021, delivered the design and development of the European "one-stop-shop" for information and resources related to opportunities in the commercialisation of human spaceflight and robotic exploration. It contributes to bridging the gap between the science-oriented and capability-driven space sector and the product-driven non-space sectors which could use the space environment to boost their product development. The web platform went live in November 2021.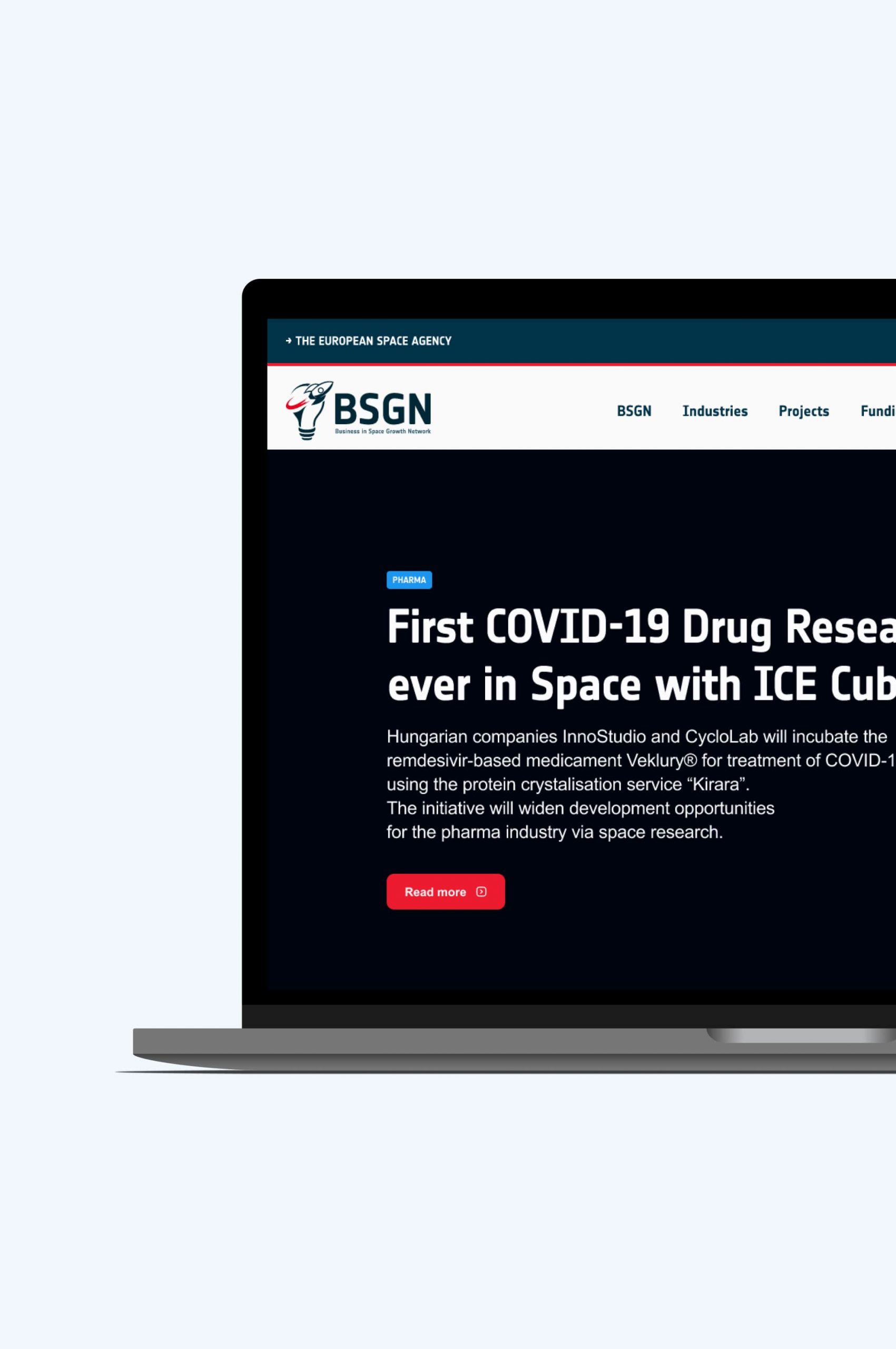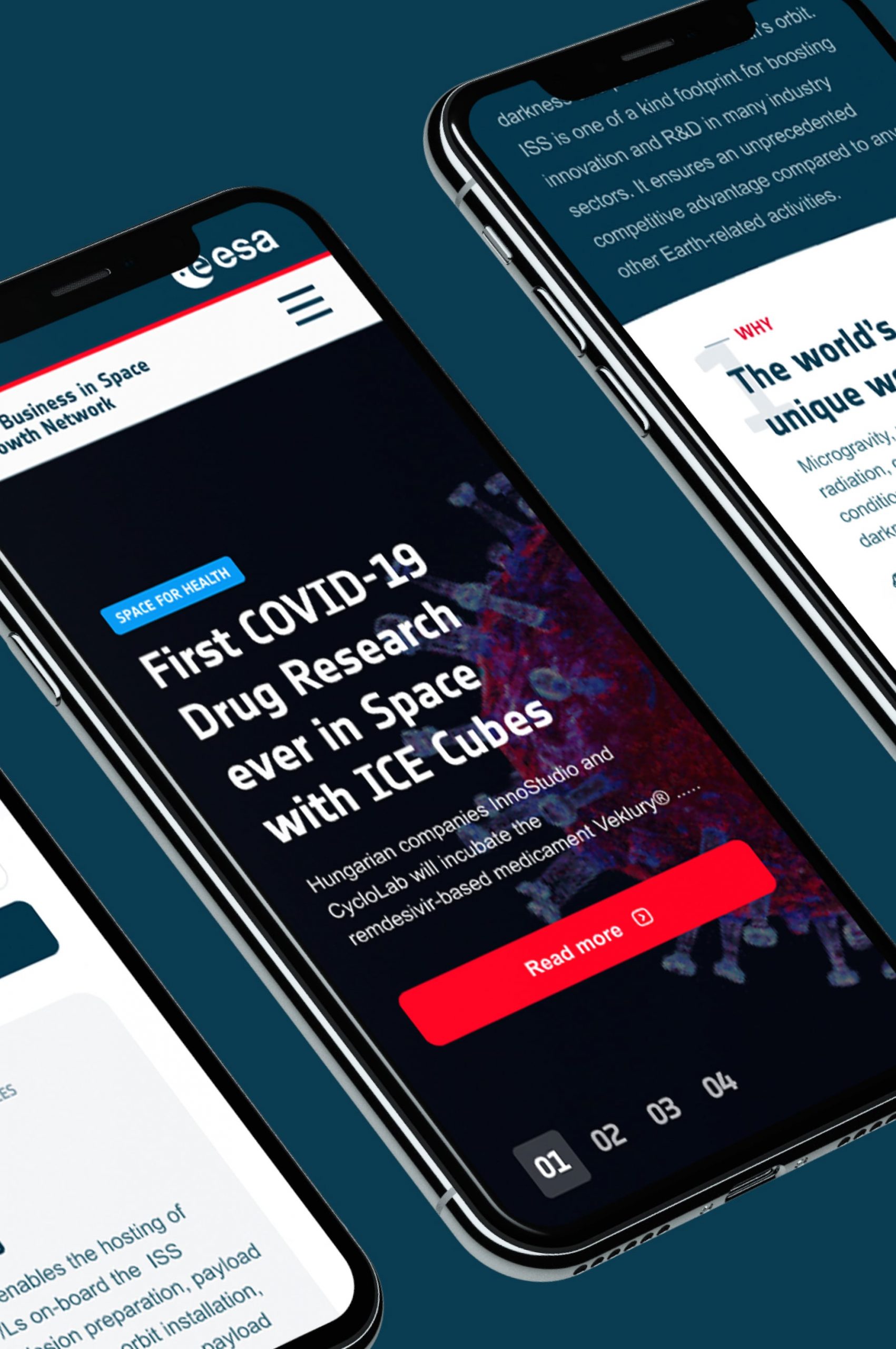 As per BSGN Digital Platform Statement of Work, the ESA BSGN website is built on WordPress
The realisation of the website followed these key steps:
Design and development. This phase included website requirements gathering and information architecture (IA) definition, including top-level and secondary menus, taxonomies and content categories. The website graphic design was also part of this phase, including wireframes, user workflows and mock-ups.
Validation. Moderated usability tests with target end-users were organised to gather insights and then finetune the website to meet end-users' needs.
Content management and upload. Content types, including taxonomies, categories and tags management, were established in order to address the dissemination & communication activities to the right stakeholders, organising content among the different sections of the website.
COMMpla played a key role in the full process of the site's development, following a rigorous UX framework: from interviews with stakeholders and end-users, through the definition of the website personas as well as wireframing and mockup prototyping, to development, and from content creation to usability testing. The current look & feel and website architecture is the result of a requirements gathering process obtained through a user-centric approach, to assess, augment and eventually modify the baseline list of requirements set at the tender launch.
Two main channels were used: workshops with identified ESA stakeholder groups, aimed at eliciting new user requirements and confirming design needs and features; and a series of focused interviews with ESA stakeholders targeting individual stakeholders of particular interest, not only for eliciting new requirements but also potentially confirming existing requirements in terms of functionalities and user experience.
Methodologies and technologies involved:
WordPress, Scrum, JIRA, LAMP, PHP, JavaScript, MySQL, Mambo, HTML5, CSS3, Json, Linux (CentOS, Ubuntu), MySQL, jQuery, media queries and bootstrap.
Do you want to learn more about how we can support you with UX research to launch your new website or revamp an existing one?
Fill out the form below and let's have a chat!