Enhancing UX: Transforming ECMWF's Web Interface for a Seamless User Journey
In the ever-evolving digital landscape, user experience takes centre stage. At COMMpla, a prominent force in web design and software development, our collaboration with the European Centre for Medium-Range Weather Forecasts (ECMWF) spans several years. Our journey with ECMWF is a continuation of our shared pursuit to shape remarkable digital interactions. You can read more about one of our successful ventures, the UDP – Unified Data Portal project, which is detailed in our "Works" section.
This ongoing partnership underscores our commitment to fostering exceptional online journeys. As we join hands once again, we amplify ECMWF's dedication to enhancing user experiences across its digital platforms.
Who is ECMWF?
ECMWF, a pioneer in weather forecasting and data dissemination, serves as a crucial resource for both the public and commercial sectors. With a mission to provide open data and graphical products for a range of users, ECMWF has embarked on a transformative journey to elevate its user interface and enhance user journeys across its digital platforms.
A Visionary Overhaul: Charting a Clear Path Forward
Our partnership with ECMWF revolved around a mission to redefine the user experience (UX) and user interface (UI) of their data request services. The primary focus was to create a streamlined pathway for commercial customers, making data search, ordering, and purchase a seamless process. The goal was clear: to improve accessibility and create a user-centric environment that caters to the needs of both prospective and existing clients.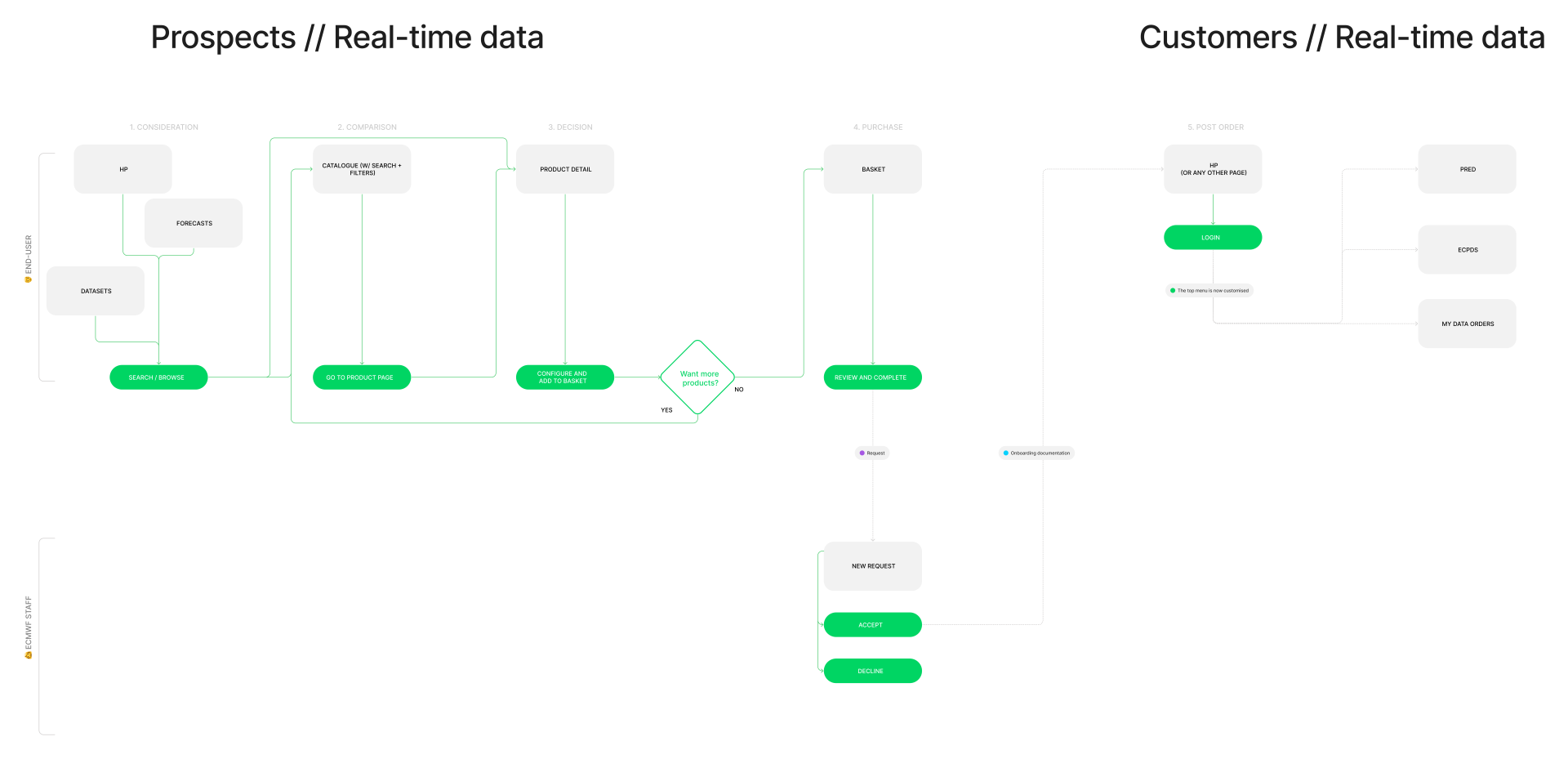 Our Approach: A Comprehensive Journey
At COMMpla, we thrive on a strategic approach that involves collaboration, analysis, and innovation. To achieve this, we embarked on a multifaceted approach:
1. Stakeholder Engagement: Through a series of interviews and consultations, we engaged with ECMWF's key stakeholders to comprehend their unique needs and challenges.
2. In-Depth Analysis: Our team delved into the existing landscape, including the dataset search function, real-time catalogue, and more, to identify areas ripe for improvement.
3. Wireflows and Wireframes: Crafting seamless user journeys required meticulous planning. We designed wire flows and wireframes to visualise the pathway from data exploration to acquisition.
4. Recommendations and Implementation: Armed with insights, we meticulously developed a set of actionable recommendations for a user-friendly interface that prioritised ECMWF's commercial objectives. However, it's important to note that our role concluded with delivering a comprehensive report of these recommendations, alongside wireframes visualising the proposed changes.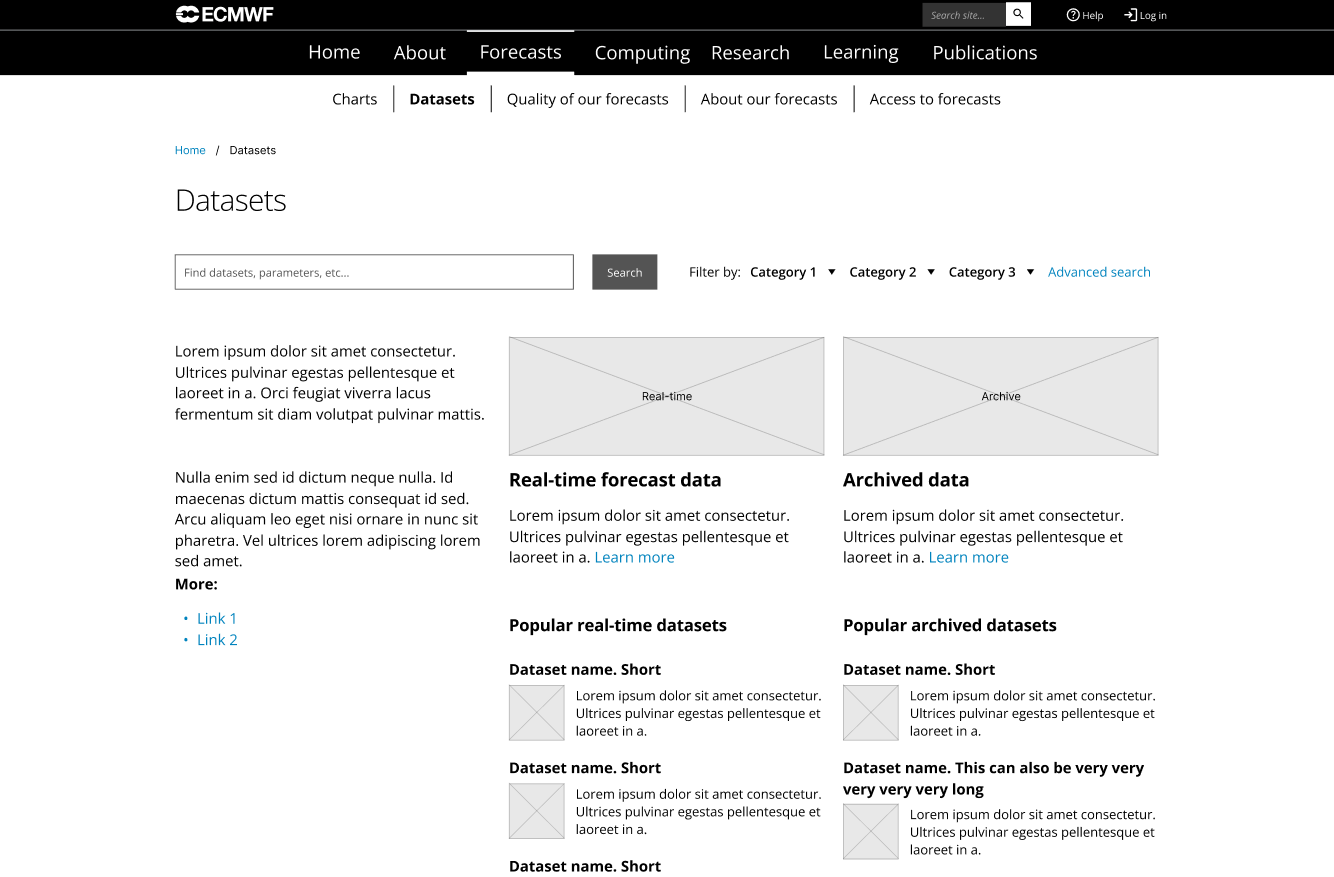 Unlocking a Brighter Future: Enhanced User Experience
The fruits of our labour are designed to benefit ECMWF's commercial clients in profound ways:
Efficiency: Navigating ECMWF's offerings becomes a breeze, ensuring users can swiftly access the data they seek.
Simplicity: The user interface overhaul simplifies complex processes, making data search, ordering, and purchasing an intuitive endeavour.
Engagement: Existing and potential clients alike will find themselves immersed in a more engaging and user-centric digital environment.
Why COMMpla?
This transformative journey exemplifies the core ethos of COMMpla. We are more than just a web design and software development company – we are architects of digital experiences that drive success. As you explore ECMWF's enhanced interface, consider the potential that lies in collaborating with us. Our expertise, coupled with a passion for innovation, positions us as the partner of choice for turning your digital vision into reality.
In conclusion:
The collaboration between COMMpla and ECMWF sets a new standard for user experience in the digital realm. As we continue to push boundaries and redefine online interactions, we invite you to embark on your own journey of transformation. Connect with us today to unlock a world of possibilities and reimagine your digital future.
Do you want to learn more about how we can support you with UX research to launch your new website or revamp an existing one?
Fill out the form below and let's have a chat!